L-R: Virginia (Minter) Pickett, Billie Grace (Minter) Reynolds, Mary Kathryn Minter, Mary Ann (Minter) Pleasant, and Eva (Robinson) Felger. Mary Kathryn Minter is the daughter of John and Birdie Minter, grandaughter of Joseph T. and Josephine (Turner) Minter. pcousins3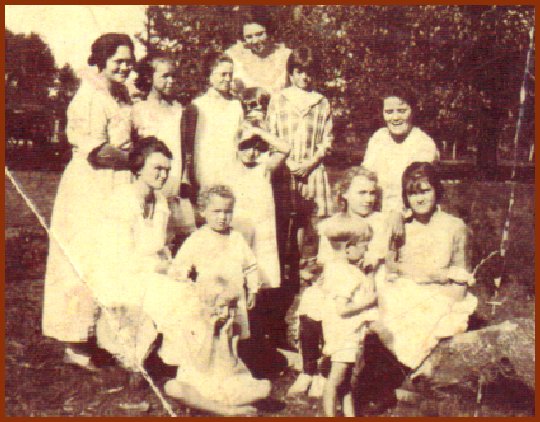 This picture was made at the Methodist Church in Pine Forest in 1919.  1. Bonnie (Dalrymple) Minter 2. Annie Kathryn Minter 3. Annie (Minter) Johnston  4. Ruth (Minter) Hargrave 

5. Margaret Hargrave 6. Berniece McClure 7.Rena (Minter) McClure 8. Robbie (Minter) Robinson  9. Dennis Jack Robinson 10. Fannie Edna Robinson 11. Eva Robinson 12. Clovis Robinson  13.Zelena McClure 14.Josephine McClure. circa 1920. pcousins1

1. ?  2.? 3.? 4.? 5.? 6.? 7.? 8. Lola McClure 9. Mank Waller 10. Sam McClure 11. ? 12.? 13. Jenny Phillips 14.? 15.? 16.? 17.? 18.Lela (Melson) Minter 19. Doll (Minter) McKinney 20. Lela (Minter) Thomas 21. Robbie (Minter) Robinson 22. Dennis J. Robinson 23.Maud (Minter) Greenwood 24. Rena (Minter) McClure 25. Myra (Walters) Minter 26.? 27. Ruby (Bryerly) Minter. This is a quilt completion party. The quilt is just behind those sitting on the ground. circa 1918. pcousins2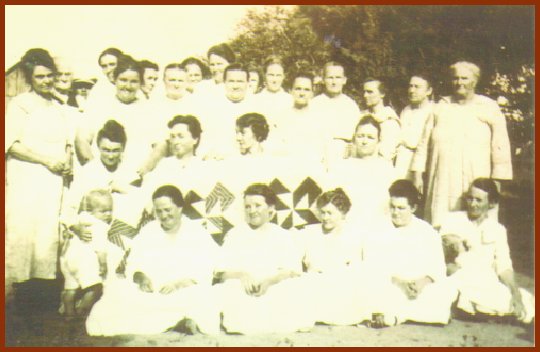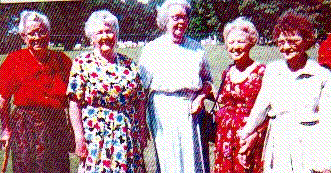 Back Row (L-R): Jack Elijah Turner (b. 1870-d.1945), Minnie Ola (Turrentine) Turner (b.1871-d.1970), Allen Serrell, Virginia (Minter) Pickett, and Robert John Minter (b.1896-d.1957). Front Row (L-R): Birdie (Kimbrell) Minter (b. 1896-d.1988), Rebecca (Adkins) Minter, Gussie (Minter) Everett, and Mary Kathryn Minter.

Jack Turner and his wife Minnie were residents of Saltillo during the 1930s and early 1940s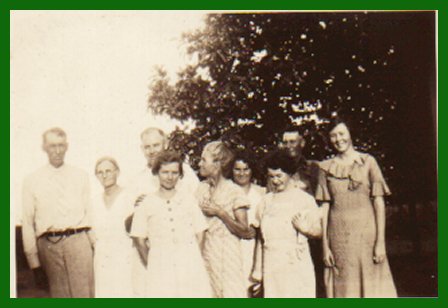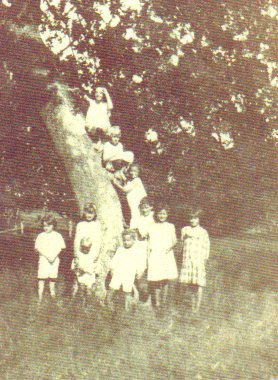 All these children are great grandchildren of "Pappy" and Sarah. (Carter) Minter 1. Margaret Hargrave 2. Fannie Edna Robinson 3. Annie Kathryn Minter 4. Elkin Minter 5. Florrie Ruth Minter 6. Berniece McClure 7. Jack Robinson  8. Eva Robinson  9. Josephine McClure 10. Doris Minter. circa 1919. pahm15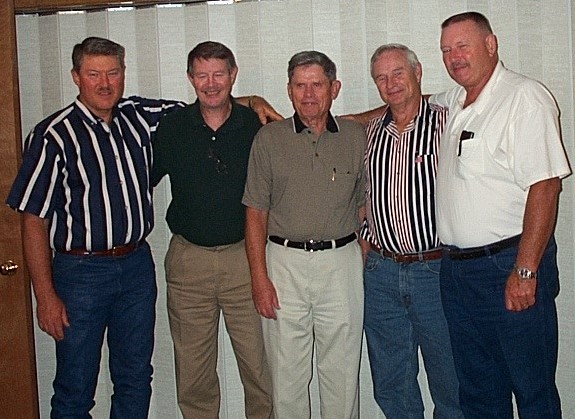 These are all brothers, and the occassion was to help the one in the middle celebrate his 70th birthday which was June 26th. This is the first time they were all able to get together since their mother died in 1990. They are Minters of the Abner Hill Minter line. Abner Hill was a brother of John Morgan Minter. The brothers are L-R: Herman (age 53), Troy (age 57), W.D. (age 70), Burl (age 64), and Milton (age 59). W.D. lives in Texarkana, Texas, and is a good friend of the Pine Forest Minters and attends their reunions in Pickton, Texas. pcousins5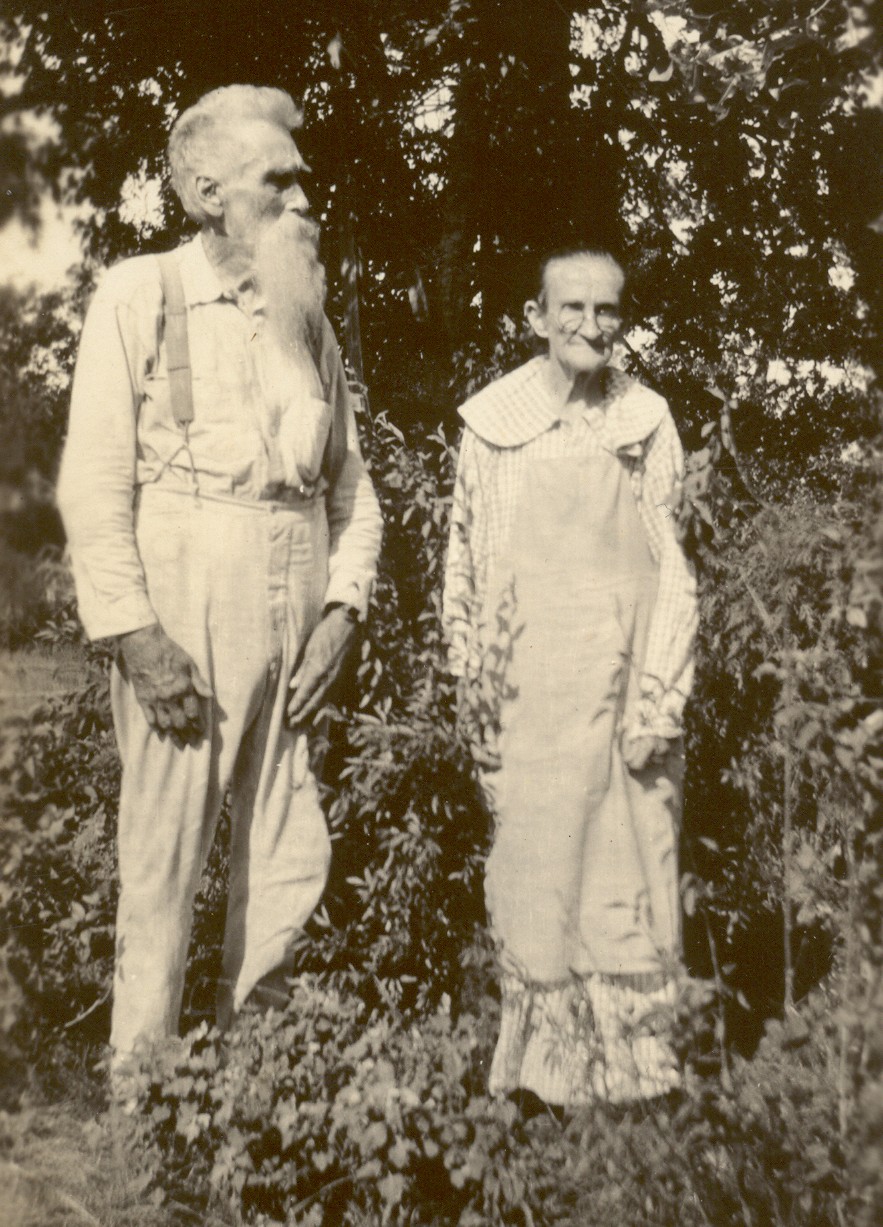 William Carey Minter (b.1843-d.1933) and his wife Synthia Ann (Barnhill) Minter (b.1848-d.1934). William was born in Heard County Georgia. Synthia was born in Clay County Alabama. William was the son of Abner Hill Minter (b.1785-d.1845), who was a brother of John Morgan Minter. pcousins6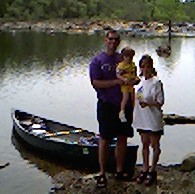 James Bullard Minter II (b. 1964), his wife Carmen (b.?), and their youing son (b.?). James is of the line of Minters of Anthony Minter, Jr (b.1715-d.1812) of Powhatan County Virginia. Anthony was a brother of John Oliver Minter, Sr (b.1718-d.1797) of Chatham County North Carolina, from which the Pine Forest Minters decesended. pcousins6

           Cousins and Others

This web page is devoted to other lines of Minters who are not of the branch of Pine Forest Minters, but who are blood related to them. It also encompasses those who have been adopted by Pine Forest Minters as well as groups of cousins within this family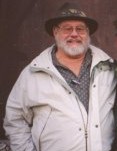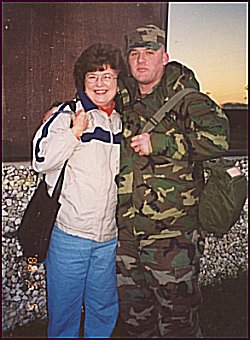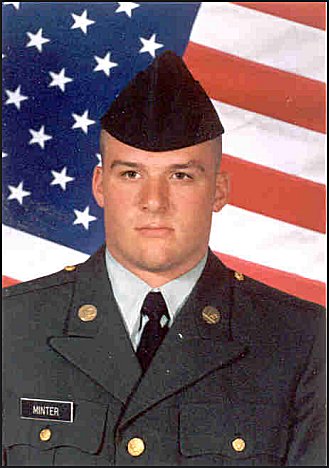 James Calvin "Jim" Minter (b.1939), great great grandson of Abner Hill Minter (b.1785-d.1831). Abner Hill Minter was a brother of John Morgan Minter (b.1792-d.1856) of the Pine Forest Minters. Jim lives in Deer Park, Harris County, Texas. pcousins 4.

Michael Shawn "Mike" Minter (b.1982), son of Frank Michael Minter (b.1961). pcousins 3.

Michael Shawn "Mike" Minter with his grandmother, Norma Jean (White) Minter (b.1940). pcousins 2.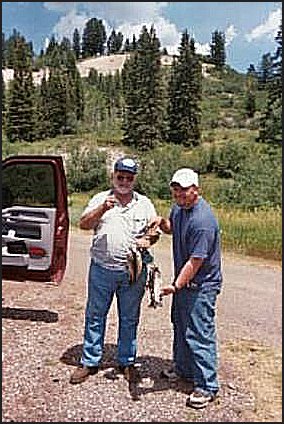 Jim Minter and his grandson, Michael Shawn "Mike" Minter, with a catch of rainbow trout. pcousins 1.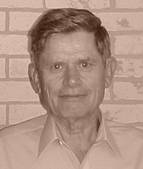 William Dewey "W.D." Minter (b.1932-d.2003), a descendant of Abner Hill Minter. W.D. attended many of the reunions of the Pine Forest Minters, and was always quick to help with any of the tasks associated with them.

Dr. Guy Z. Minter's in-laws, Margie Penn's parents;  Stephen  Penn (b.1842-d.1908) and Clementine (Hargrove) Penn (b.1841-d.1910).

There is a double tie to the Minters here. Going through the Hargroves, Emmett B. Minter's wife , Ruby, was descended from the Hargroves. Stephen Penn came to Greenwood, probably after the Civil War. He and Jerry Hawkins installed the first gin at Greenwood. pcousins7.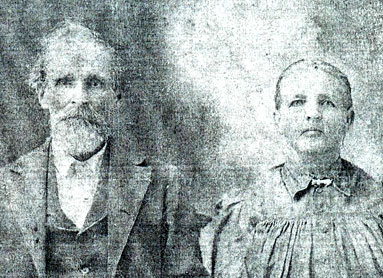 These are two sisters of  Emmett Min ter's wife, Ruby (Bryarly). Left: Lucy Kate Bryarly (b.1885-d.1980). Above: Maud Pearl Evelyn Bryarly (b.1880-d.1904). pcousins8 & 9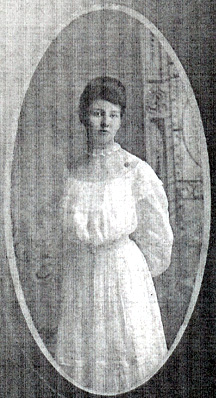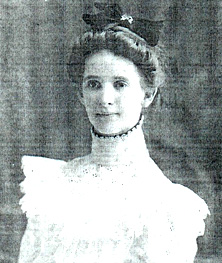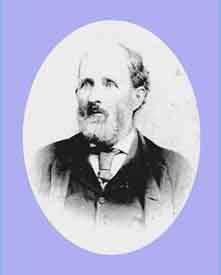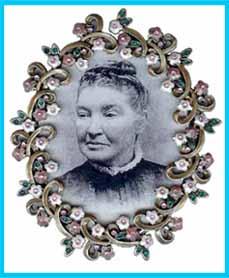 Ruby (Bryarly) Minter's maternal grandparents: William Chester Hargrove (b.1825-d.1903) and Susan Evelyn (Tippett) Hargrove (b.1836-d.1911). pcousins10 & 11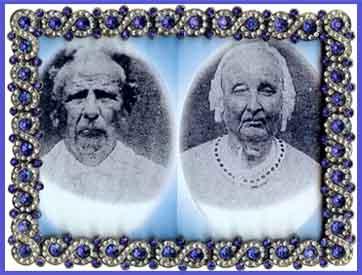 James Hargrove (b.1800-d.1874) and Rebecca Wells (Higginbottom) Hargrove (b.1801-d.1877). These are Ruby (Bryarly) Minter's great grandparents. pcousins12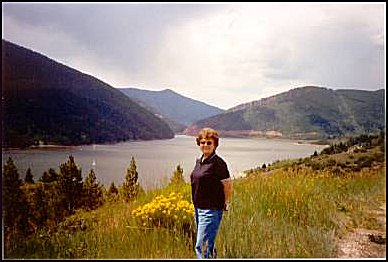 Norma Jean (White) Minter (b.1940), wife of Jim Minter (b.1939). This picture is at Ruedi, Colorado. Beautiful scenery. pcousins 13.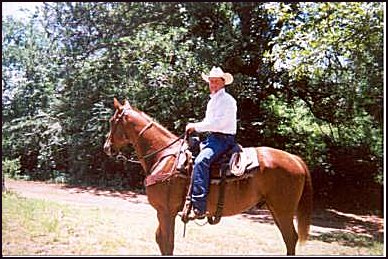 Jim Minter's cousin Darin Wayne rode this horse to his wedding 4 or 5 years ago. pcousins 15.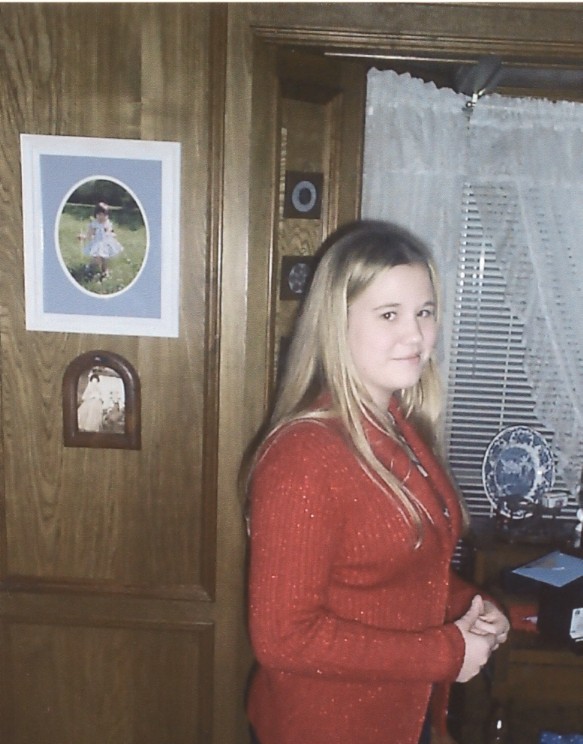 Jenny Nicole Minter (b. 1987) , daughter of James (b.1959)and Judith Ann (b.1959) (Hogan) Minter and granddaughter of James Calvin (1939) and Norma Jean (White) (b.1940) Minter. Jenny is a 2006 high school graduate of Kenard High School in Texas, where she was valedictorian of her class. She plans to attend Sam Houston State College and study criminology. pcousins16.