Upper left. This was the old Gus Minter house on the road from Pine Forest to Pickton. It was familiar landmark for many years. This picture belonged to the late Virginia (Minter) Pickett. Written on back of picture: "Our house that was built after our old two story house burned . . . 1918 or 1919. The little girl (in the picture) is Martha Jean Poole, daughter of Abbie Lee (Minter) Poole (b. 1910 -- d. 1983). pbldgs6. Upper right. This appears to be the same house as on the left. It is not clear whether this is a later picture of it or an earlier one . . . and, it is probably not the same child on the porch . pbldgs6a


Dr. Raymond Thomas and his wife Lela (Minter) Thomas's home (1911-1924) in Pine Forest. The house faced east, and the front porch was a cool spot on a warm evening. Raymond and Lela would sit in rocking chairs on that porch almost every evening, cooling off and watching the passing parade. Their house was about a quarter of mile south of Jack Robinson's home. pbldgs7

This picture was found amongst the pictures of the late Dr. Paul J. Thomas and Lela (Minter) Thomas. Maybe someone can identify it. pbldgs9

The Jordan home in Pine Forest.  It was located about a half mile east of the north road which ran through Pine Forest, and was on the land once owned by "Pappy" Minter. The house was located on a slight hill, and at its bottom was a spring -fed creek branch that meandered through the pasture that provided a swimming hole. pwhm21

Sulphur Springs home of the late Mrs. Robert Anthony Minter, Susan Elizabeth (Ramey), seen standing on the front steps. Her daughter Edna (Minter) Greenwood is seen arriving in the buggy. circa 1910. pram28

The Pine Forest home of  Robert Anthony and Susan (Ramey) Minter. The house was about a mile southwest of Pine Forest. pram43

Dalton and Dessa (Minter) Pogue lived in this Pine Forest home until the early 1930s. It was located across the road from the present day fire station. The house burned about  1942. pahm75.

L-R: Sylvanus Abner "Ab" Minter (b.1834 - d.1912), Guy Forest Minter (b.1903 - d.1912), Grace Minter (b.1898 - d.1993), Margie Penn Minter (b. 1877- d.1970), Hazel Minter (b.1905 - d.1986), behind Margie, Greta Minter (b.1896 - d.1949), and Dr. Guy Z. Minter (b.1869 - d.1915). Sylvanus was a Captain in the Civil War and served as a Regimental Commander for the Confederancy. The house was Guy's, and it sold for $65,000 in 1998. The magnolia tree behind the "Captain" (Sylvanus) is still alive in 1999. The house was built in 1903 of lumber hauled by wagon from Jefferson, Texas. Square nails were used in the construction. psam2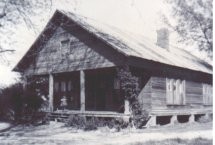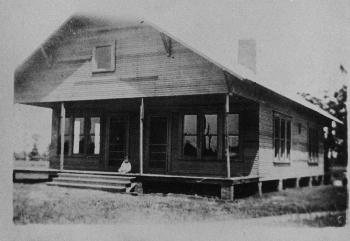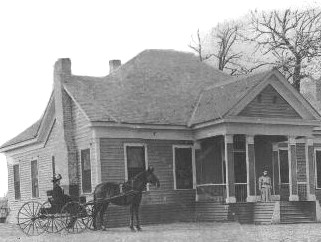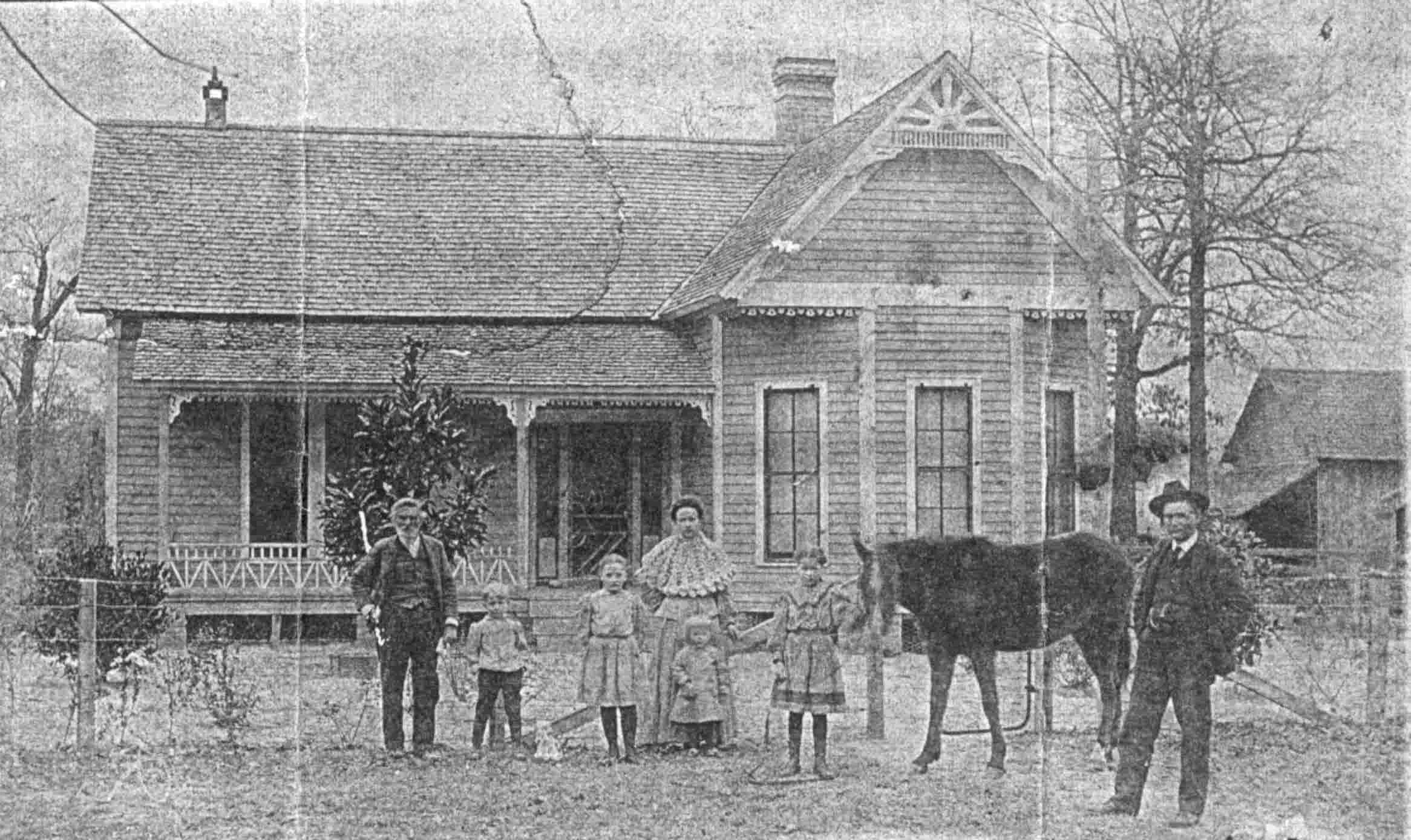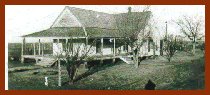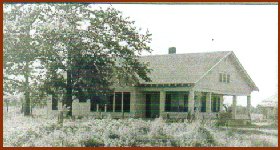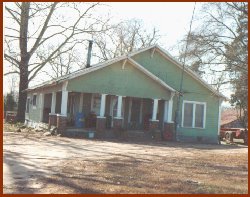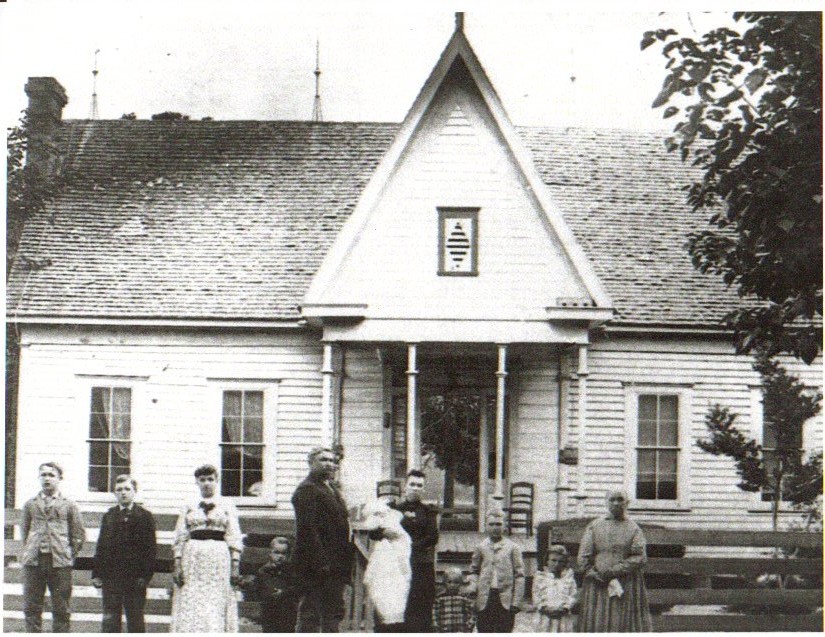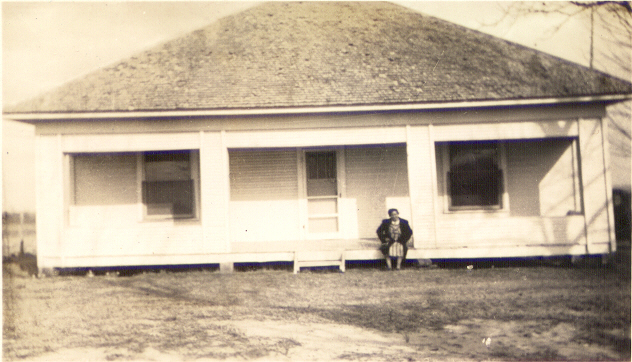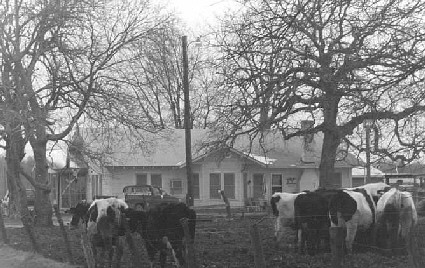 The McLarry place in 1997 at Crush, Hopkins County,Texas. This was the home of Guy and Robbie Lee (Minter) McLarry.  pram153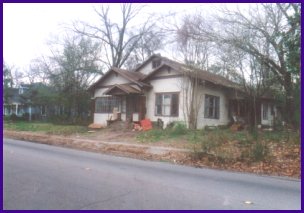 The Sulphur Springs home of Robbie (Minter) Robinson/Phillips (b.1886-d.1978). Robbie lived in this house the last 35 years of her life. The house was located at 352 East Jefferson Street, which was the path of the old Jefferson Wagon Trail on which teamsters hauled supplies to the developing West. pram160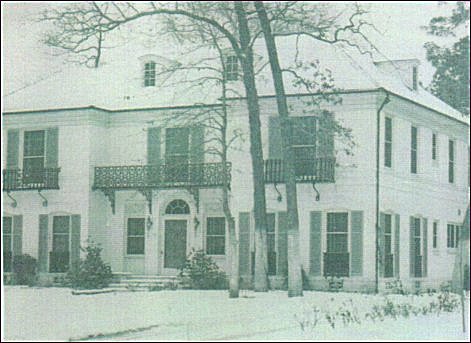 Edna Elina (Minter) Greenwood's home in Houston, Texas. Edna lived here the last 30 to 35 years of her life. The picture was taken on one of those rare days when there is snow on the ground in Houston. pram161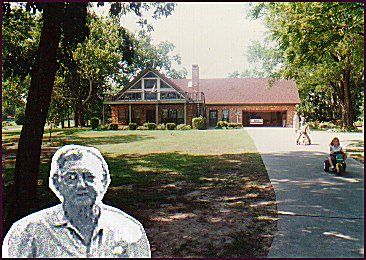 The home of Frank Phillips (inset) in Pickton, Texas  pram163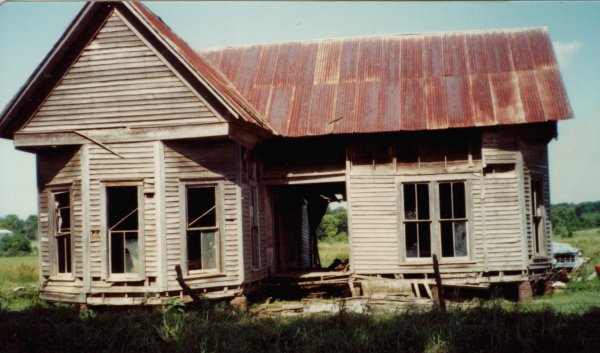 The Pine Forest home of  Robert Anthony and Susan (Ramey) Minter. The two front rooms and porch were added sometime later to the original house. pram43a

Charlie and Rena (Minter) McClure's home and family in 1917. L-R:  Mitchell (b.1906--d.1977), Boyd (b.1908--1992), Charlie (b1883--d.1959), Rena (Minter) (b.1885--d.1981), Josephine in Rena's lap (.b.1917), Berniece (b.1917-d.1995). Zelena Elizabeth (b.1906--d.1991). pahm80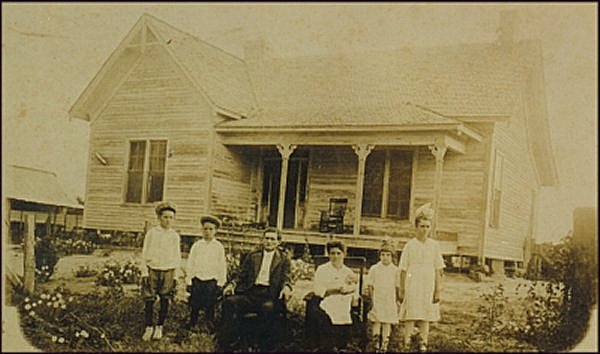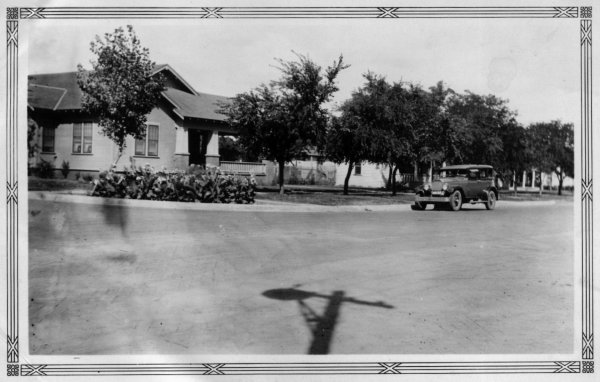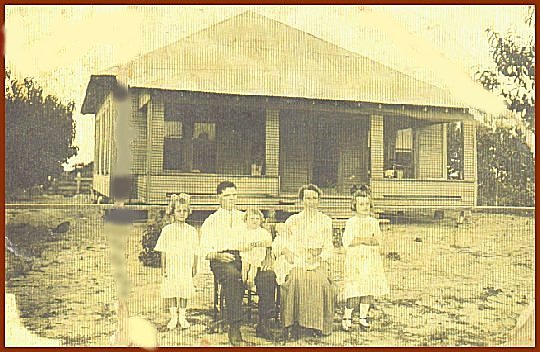 Emmett B. Minter and his family at their Pine Forest, Texas, home in 1917. psom72

The Childress, Texas, home of Alvin G. and Ruth V. (Minter) Hargrave. psom73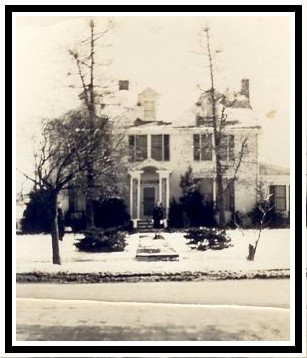 Home of Uncle "Johnnie" and Aunt "Dollie" (Minter) Stephens in Sulphur Springs. pdbm2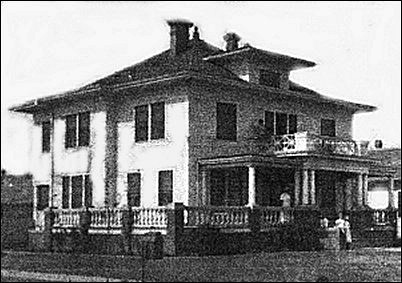 This was Edna Elina (Minter) and Pat Greenwood's home when they lived in Wichita Falls, Texas. pram188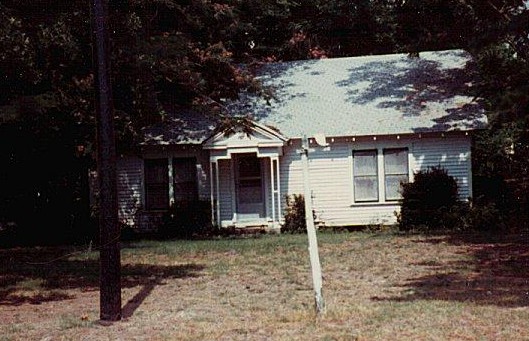 The home of Robbie (Minter) and Vester Phillips in Pine Forest. The previous house, where Jack Robinson grew up, was torn down and replaced with this one about 1932. Vester died in 1941, and Robbie and family moved to Sulphur Springs. The house was then occupied by Annie Monk (Minter) and Dewit Thurman, who raised their family here. After their passing, their daughter and her family continued to live in the house, until a storm came along and destroyed it in 2004. A new structure has been on the site. pram189

The Dallas home of Jesse and Neita (Hill) Smith. Neita was a granddaughter of  Sylvanus Abner Minter. Max and Dorothy Smith were born in  this house. Their grandparents, Benjamin and Julia (Minter) Hill  lived here before the Smiths. Julia died here in 1916. The house was located at 2730 Welborn, Dallas, Texas. psam48a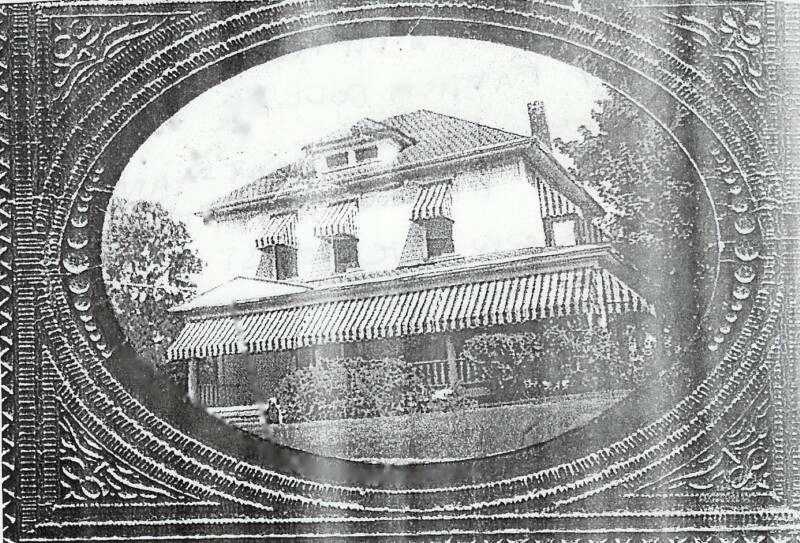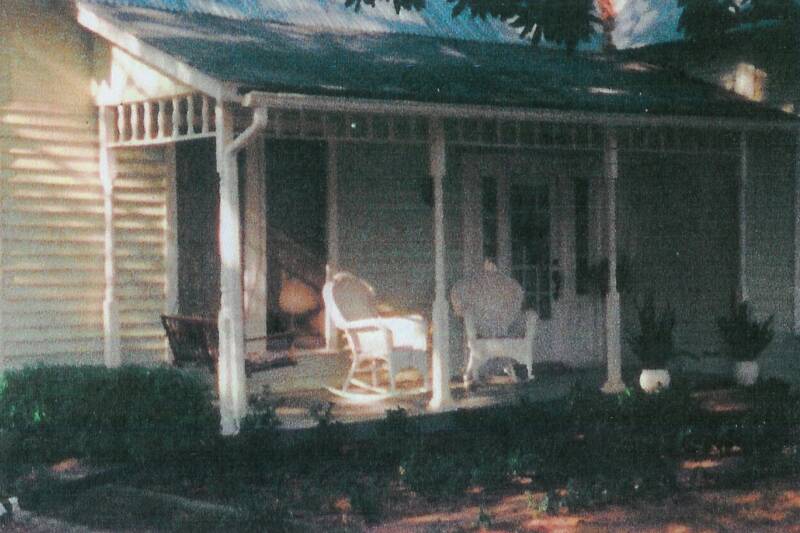 A recent photo of the front porch of the house above. psam57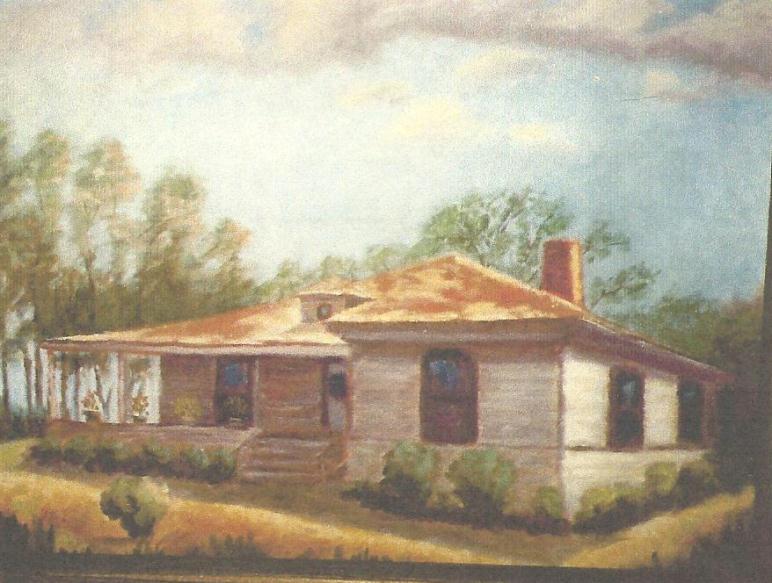 John Robert "Little Bob" (1870-1951) and Lou (Hayden) (1874-1957) Minter 's homeplace. It is located on the west side of the Pine Forest-Pickton Road going south just before the turnoff to Bethel. Courtesy Harold & Ann Elledge.